Photos Resource Collection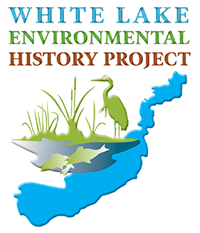 Welcome to the White Lake Environmental History Project's Photos Resource Collection. In this section, we have organized the photos submitted by members of the community, visitors and interested individuals and organizations.
Each photo is displayed as a thumbnail with a caption. If you click on any photo, a larger version of that same photo will open in a new pre-sized window; the window may be resized as necessary to see the full photo.
Wherever possible, you will find links in the caption area of the thumbnail to other materials in the resource collection related to the photo. "Oral" refers to a related entry in the Oral Histories Resource Collection while "Subject" refers to a related entry in the Subject Matter Resource Collection.
Environmental History Dates and Events
Download a PDF* of the WLEHP banner to review important White Lake environmental history dates and events.
* Adobe Reader is required to open and view PDF documents. Depending upon your browser, the downloaded document will either open in a new window or be downloaded directly to your computer. You may then print it and/or save it to your computer.
Explore the Collection
Use these links to jump to topical section of the Photos Resource Collection:
---
Photos Resource Collection
White Lake the Beautiful
Swimmers at White Lake Yacht Club
Michilinda Dock
Life Saving Station Montague
Goodrich Dock
back to top

---

Whitehall Leather Company ("the Tannery")

This collection includes a photo contributed by Chuck Svensson and his sister Eleanor Carlson, whose family owned and operated the White Lake Villa which was near the tannery. It also includes historical photos contributed by Dexter King, a former manager at the tannery, and Marcia Funnell (daughter of Rex Funnell, who worked at the tannery and niece of Dexter King). Dexter King was interviewed twice for the White Lake Environmental History Project—once on his own, and again, with his brother, Rex Funnell.

Whitehall Leather Company
Photo Contributed by Dexter King
See Also Oral and Subject Entries
Aerial View
Photo contributed by Marcia Funnell
See Also Oral and Subject Entries
The Gymnasium, Where the Black Eagles, the Tannery Basketball Team, Played
See Also Oral and Subject Entries
Tannery Employees, Tackers
Photo Contributed by Dexter King
See Also Oral and Subject Entries
Tannery Employees, Management
Photo Contributed by Dexter King
See Also Oral and Subject Entries
Plant Operations
See Also Oral and Subject Entries
Plant Operations
See Also Oral and Subject Entries
back to top

---

This collection includes historical postcards, photos, and news articles about the White Lake Villa, a popular resort on White Lake (at the site of the current White Lake Eagles) adjacent to the Whitehall Leather Company on Lake Street in Whitehall. The resort was owned by Charles Svensson and Nora Johnson Svensson. Chuck Svensson and Eleanor Carlson, two of their adult children, were interviewed for the White Lake Environmental History Project about the challenges the family faced from the tannery's odor and its effect on the resort.

Page 1 of 1960 White Lake Forum article on Whitehall's first families and tannery employees in July 4 parade
See Also Oral Entries
News article about White Lake Villa
See Also Oral Entries
White Lake Villa dance poster
See Also Oral Entries
Dining at the White Lake Villa
See Also Oral Entries
Historic postcard of White Lake Villa
See Also Oral Entries
Inside the White Lake Villa
See Also Oral Entries
White Lake Villa Water Slide
See Also Oral Entries
Charles "Chuck" Svensson
See Also Oral Entries
Eleanor Carlson
See Also Oral Entries
back to top

---

Hooker Electrochemical Company

Hooker Electrochemical Company
See also Oral and Subject Entries
back to top

---

Sawmills on White Lake
See Also Events Entries
back to top

---
Resource Collection Navigation
General Navigation